Some Organizations we have helped so far
We have decided to raise money to purchase an AED for our very own Palmerton Police. There have been two incidents within the past 3 months, where the Palmerton police could've used an AED on two people to save their lives. We wanted to make sure that this would not happen again. We had raised over $1,000 within a few hours; and are very greatful for all the support we had gotten from our community as well as others!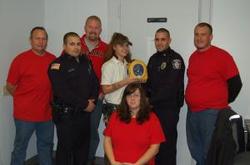 Below we explain how the AED operates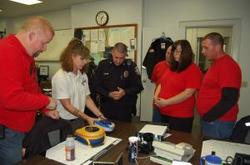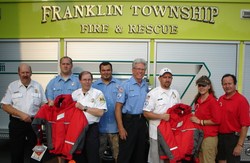 Above Photo Crusaders recently donated two Coast Guard approved water rescue jackets and two stainless steel carabiners to the Franklin Township Vol. Fire Company. The money was part of funds distributed from the proceeds of our annual carnival in the Palmerton Borough Park in the spring.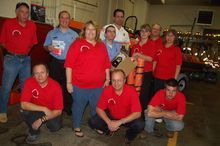 Crusaders giving Lehighton Fire Department a water rescue stretcher flotation collar and pully system along with picks of life for water ice rescue work.
Below We Donated $500 To Animal Shelter of Carbon. Vice President Ryan Shupp to the right, Animal shelter volunteer Donna Crum, President Christina Obrecht presenting the check, and Treasurer Larry Zawaly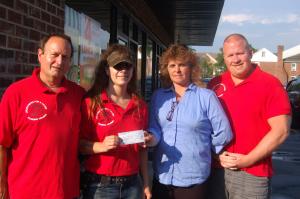 Judy Hoppes, community manager of special events for the American Cancer Society, accepts a donation from Christina Obrecht, president and founder of Crusaders for a Cause as Crusaders members Robert Obrecht, left, and Brian Gombert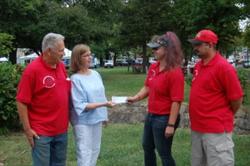 Board of director Irene Obrecht and President Christina Obrecht presenting another $1,000 check to Dr. John Glick of Philly's Abramson's Cancer Center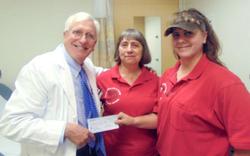 CHECK OUT THE AWARDS AND ACHIEVEMENTS PAGE
Presenting 2 one inch booster nozzles to Parryville Volunteer Fire Co. No. 2's assistant chief, Art Strohl. All the members were very greatful for the 2 nozzles, and had put them into service right away. They were in desperate need for these new nozzles, since the older ones they had were falling apart. Keep up the good work, Parryville!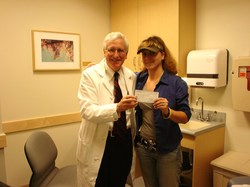 President Christina Obrecht presenting Dr. John Glick of the Abramson Cancer Center of Philadelphia a $1,000 check.
Christmas
We helped families in the Palmerton area that were in need by supplying them with the necessary food and supplies to create a nice holiday Christmas dinner.
Donating a flagpole to the Palmerton Municipal Fire Dept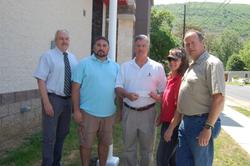 Donating another $1,000 to the Abramson's Cancer Center in Philadelphia. President Christina Obrecht presenting the check to Dr. John Glick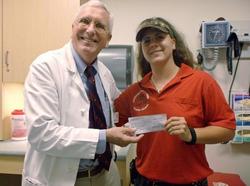 President Christina Obrecht presenting Detective Kevin Buck of the Palmerton police Dept, three breathalyzers, which equaled just under $1,000